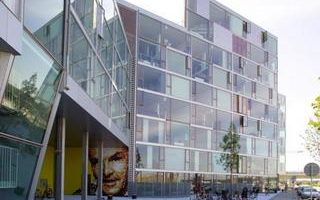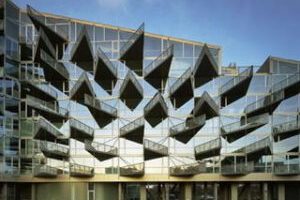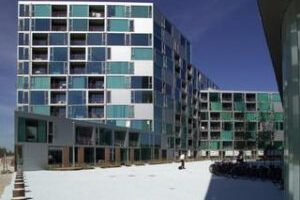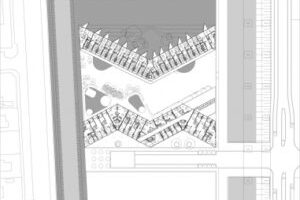 Main objectives of the project
The VM Houses, located in Ørestaden, Copenhagen, are a residential project designed with a distinct V and M shape. The buildings are strategically twisted and turned to maximize views and eliminate obstructed sightlines between blocks. The V house features balcony condos, while the M-house offers a modern take on Le Corbusier's Unite d'habitation with improved circulation and views. The unique wedge-shaped balconies on the south facade create a sense of community and connection among neighbors. With over 80 unique apartment types out of 225 units, the complex composition of the VM Houses resembles a three-dimensional game of Tetris. The buildings showcase large glass facades, elegant wood framing, solid oak wood floors, and white concrete walls and ceilings. Extensive daylight simulations were conducted to optimize views and solar orientation, ensuring every unit receives direct sunlight throughout the year.
Date
Stakeholders
Arquitecto: BIG – Bjarke Ingels Group
Arquitecto: JDSA / Julien De Smedt Architects
Location
Continent
:
Europe
City
:
Copenhagen
Country/Region
: Copenhagen, Denmark
Description
The VM Houses, shaped like a V and an M when seen from the sky, is the first residential project that was built in the new district of Copenhagen known as Ørestaden. Through a series of transformations the block is opened up, and twisted and turned to ensure maximum views of the surrounding landscapes and suburbs, as well as eliminate the vis-a-vis between the blocks. The V house is conceived as a balcony condo, the M-house as an Unite d'habitation version 2.0. But where Le Corbusier designed narrow flats surrounding hundreds of meters of dead end corridors, the zigzagging of the M-house ensures that all corridors have views and daylight in both directions. These openings transform the circulation into an attractive social space. For the south façade facing the park we designed a new type of balcony- a wedge shaped plane that combines minimum shade with maximum cantilever. On a warm summer afternoon, the wall of balconies form a vertical backyard community, creating connections to neighbours in a vertical radius of 10m. As a result of the zigzagging, stepping, sloping, intricate circulation and multilevel apartments, the VM houses are populated by a swarm of different apartments. Out of 225 units there are more than 80 unique types. The many multilevel apartment types interlock in complex compositions on the façade, transforming the exterior of the VM houses in to a three dimensional game of Tetris. The VM Houses are made up of simple but exquisite materials with large glass facades framed by fancy wood. Floors are made up of solid oak wood, and dark, hard wood have been used for the balcony floors. Walls and ceilings appear with a somewhat raw finish in white concrete, and all internal stairs and handrails come in white painted steel. All the apartments' external walls are made up of glass. To ensure that the VM shape was optimal with respect to views and solar orientation, a number of daylight simulations were made simulating light at different times of day and year. By using the studies we were able to design a building with 225 units where all are guaranteed direct sunlight, everyday throughout the year.