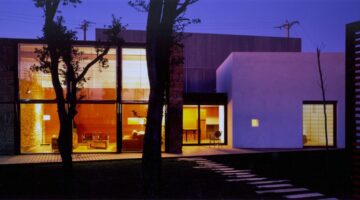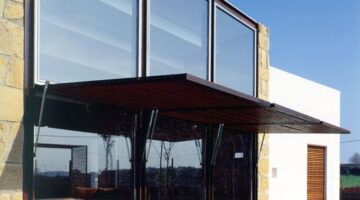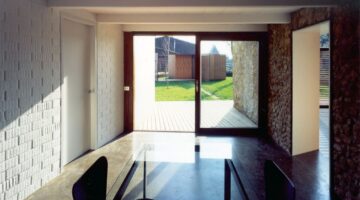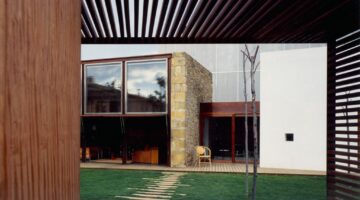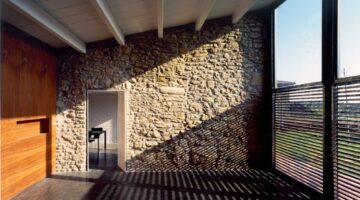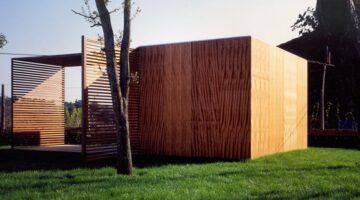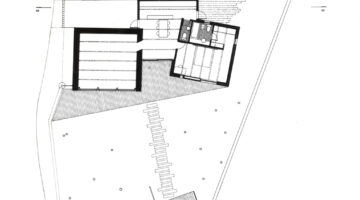 House and Studio for a Photographer
Main objectives of the project
For some time the architect helped his brother, a fashion photographer, look for a site in which to build his residence and workplace. They finally found it in Llampaies, a village of the Alt Empordà region in Catalonia. It consisted of a threshing circle shaped enclosure containing a derelict square hayloft built of stone facing the sun at noon.
Date
Stakeholders
Arquitecto: Carles Ferrater
Arquitecto: Joan Guibernau
Location
City
:
Saus, Camallera i Llampaies
Country/Region
: Spain
Description
The first decision was to keep and rebuild the old construction, and to elaborate the project from the fragmentation, in a way similar to vernacular architecture. The old building, almost five meters high, would receive a new-pitched roof hidden within its walls, becoming the living room of the house. Next to it, and slightly rotated, a new cubic volume houses the night areas. A lower volume which connects the other two houses the entries, acting as hallway and dinner, with the kitchen at the back.. Its roof surrounded by the walls of the other two buildings can be used as solarium.

The large blind box used as photographic studio emerges at the back of the site, taking advantage of a three-meter drop in level to shelter the cluster. This space, whose dimensions were determined by my brother, is structured from its roof section, allowing an almost central position of the light catchment area as well as maximum height and depth of field at the back of the grey finished studio. At the opposite end a clerestory window facing West will flood the studio with warm sunset light. A series of cable driven shades will provide control of the natural daylight.

A small wooden volume used as guesthouse rises at the southern end of the patio garden, in front of the other buildings. It receives light through a sliding window overlooking the veranda and a small "crack" in the roof over the bathroom.
The architectural intervention lies in the external treatment; the old fence around the site gets covered with ivy and two small groups of trees, seven facing east and seven facing west, contribute to provide a sense of magic like the one seen in the old photograph of this place which was often used as setting for the town holiday.
The materials used, fiber/cement panels, concrete beams, steel sections, lime based renders, brickwork, block work, wooden panels, or in situ concrete floors, will retain their original texture. The technical installations are not embedded in the walls, instead they run between the inner load bearing walls ant the outer sheathing, Heating is radiant type, using the concrete floor as heat storage.
Some mobile elements such as sliding windows/doors, counter weighted sashes or louvers activated by compressed air pistons, help to relate the interior to the exterior forming an intermediate space like a porch or terrace.